The File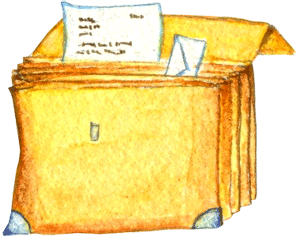 It Happens Here!
The File. This is where it happens. Truly. It's for quick, easy reference.
Read this section carefully and follow as many suggestions as you can—and quickly.
Begin by getting a legal-size accordion file, approximately 9"x15" with 12 or more compartments. This is where you will store all pertinent information, including copies of valuable documents.
Label it
Label it with your Aging Loved One's full name … Doh, John William.
Label the sections from front to back:
Personal
Medical
Community
Finances
Legal
Department of Veterans' Affairs/Veterans' Affairs(if applicable)
House and Home
Spouse's information (if applicable)
Calendar
Communications
Observations
Miscellaneous
Other?
You have found vital, specific information and have a rough idea of other things. You are ready for the Important Information Checklist. When all the information is compiled you will have the confidence to meet with (and impress!) any professional who crosses your path.
Pour a fresh cup of tea or coffee. Find a pen that doesn't blob and get comfy. Take your time.
Refer to the Important Information Checklist.
Important Information
Use a separate piece of paper (or more) for each section of The File.
Complete the Important Information Checklist to the best of your ability, transferring information to the correct page. Put the pages in the correct pocket of The File.
Check the item off only when you are sure you have everything that's required. If not, make a note in the margin. Use a sticky note. Use anything that will remind you to come back to it.
Add to The File as you gather new information.
Be kind to yourself. The mess wasn't created in a day. Don't expect to un-mess in a day.
Keep it Safe and Handy
Keep The File in a safe spot in your home. You'll need to refer to it frequently.
Someone may have to find The File. Know how to describe its location.
"It's in the kitchen cupboard to the right of the refrigerator."
Keep it Up-dated
Add several sheets of lined paper to the Miscellaneous section. EVERY TIME you make an appointment, keep an appointment, get results of a test, receive a message, etc., enter this information on a page and file it where it belongs. Include the date. It's a diary, a journal—it's the secretary's notebook. You never know when you may have to dredge up something and you certainly can't begin to remember it all.
Furthermore, no one can claim at any point that you are withholding information.
Calendar
Buy an inexpensive calendar with large squares and keep it in The File. Enter all appointments.
You can also create computer calendar pages with a computer program, and include reminders of up-coming appointments or events. Use your computer for your calendar but use the hard copy for The File.
Back-up? Yes. Duplication? Yes, yes!
Keep the computer calendar and the written calendar up-dated at all times.
Regardless of the section in The File, as you fill one page with your notes, add another in front of the last. The most recent entry goes in front. Keep jotting down notes.
You're organized! Bring 'em on!
A Word About Computers
They are valuable tools. With their help, you can search and communicate but they don't replace The File.
Think about your doctor's office or the dentist's office—they have file folders and hard copies of everything. Make a habit of printing copies of email messages from concerned relatives who live "away." Put them in the communications section of The File.
Increasingly, seniors own and use computers. It's anyone's guess as to what they have on them, and your Aging Loved One may not be aware of security issues surrounding them. When the time comes to discard that computer, ensure that the contents are erased. Ask a professional to do this if you are unable.