Important Information Checklist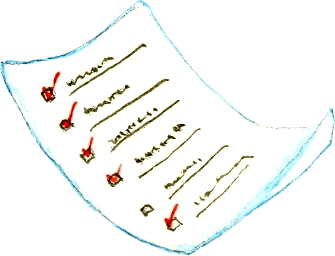 You may wish to print this page and work with real paper. Go ahead! We want whatever is easiest for you.
Note: An empty circle (

) beside an item on the lists below reminds you that this is an important document. It should be photocopied.
The copy goes in the appropriate spot in The File and the original in a locked location. This could be a safety deposit box or a metal file box at home. Office supply stores sell metal file boxes.
Personal
Full name
Date of birth
Address
Phone number
Birth Certificate
Social Insurance Number
Immediate family members' full names and their relationship, including step-children
Names and phone numbers of close friends and neighbours
Medical care card number
Drivers' License number or Personal I.D. number
Dietary habits—favourite breakfast time and food; ditto lunch and dinner
Meal routines—timing of meals and snack
Sleep routines—bedtime, naps
Fun list—favourite foods, music, clothes, TV shows, hobbies, good friends
Un-fun list—food allergies and dislikes, things that annoy, unpleasant topics
List of personal items and special bequests
List of any unions, fraternal orders, automobile club ... any organization or club to which there is or has been a connection
Funeral Home if pre-arrangements have been made
Other? Add as necessary
Medical
Create a Personal Medical History for your Aging Loved One. (Create one for yourself, too.)
Here's a comprehensive guideline:
Family doctor: name and phone number
Medical card number ("Yes, it's already in "Personal")"
Name of health insurance carrier and contact phone number
Blood type, if known
Doctors/specialists with whom your Aging Loved One becomes involved and their phone numbers
Pharmacy location and phone number
List of medications (prescribed or over-the-counter), diet supplements, etc. This may change; always update the changes.
Eye doctor: name and phone number
Eye glasses prescription written by ophthalmologist/optometrist
Dentist: name and phone number
Hearing aid provider and phone number
Drug sensitivities and allergies ... describe names and symptoms
Has your Aging Loved One ever been told he or she had one of the following conditions? Answer yes or no.
Lung disorder
High blood pressure
Heart trouble
Nervous disorder
Disease or disorder of the digestive tract
Any form of cancer
Diabetes
Arthritis
Hepatitis
Kidney disease
Malaria
Disease or disorder of the blood (describe)
Physical defect or deformity (describe)
Vision or hearing disorders (describe)
Life-threatening conditions (describe)
Contagious disorders (describe)
Has your Aging Loved One been treated by a physician or been disabled or hospitalized during the last year? (describe)
Has your Aging Loved One had, or been advised to have, a surgical operation within the last five years? (describe)
Date of last physical:
Date of last tetanus shot:
Family history—note any known important medical problems of your parents:
Any other special medical information.
Community
Community health care nurse's name and phone number
Home care providers
Long-time neighbours and good friends—find the Christmas card/birthday list
Meal providers and phone numbers
Telephone Tree or call-out list members and phone numbers
Other
Finances
Union/Superannuation number, if applicable
Pension(s), RRSP information and beneficiaries
Financial accounts, locations, account numbers, and names of co-signers, if applicable
Credit cards—list all the names and contact phone numbers
Safety Deposit box location, list of contents; who has keys?
Bank cheque books
Life Insurance policies
Disability Insurance policies
General insurance policies
Stock or bond certificates
Other
Legal
Location of Will
Power(s) of attorney: names, addresses, phone numbers
Executor(s) of Will: names addresses, phone numbers
Beneficiaries of Will; list all
Marriage Certificate
Divorce Certificate
Separation agreements or court orders requiring support payments
Real Estate Deeds - documents that show the name on the title of any house or real estate. Yes, a piece of "dirt" in Stubble-Jump-Flats counts.
Legal paperwork if your Aging Loved One owns or operates a business, a company, or a partnership
Others
Our Veterans: DVA/VAC/VA
Military Regimental Number
Dates of service
Veterans' Affairs health ID Card
Name of area counsellor/representative
Other
House and home
Deed/Title
Mortgage papers
Property taxes
Home purchase records
Home inventory
Home improvement records
Home-equity loan
Automobile registration and insurance forms
Gardener: name and phone number
House cleaner: name and phone number
Electrician: name and phone number
Plumber: name and phone number
Chimney sweep: name and phone number
Other
Spouse's information
Consider doing the same thorough job for both Mr. and Mrs. while you're at it. It's just a thought and it won't take much extra time.
Full name, address, phone number
Birth Certificate
Social Insurance Number
Marriage Certificate
Medical care card number
VAC/DVA/VA if applicable
Other
Calendar
A current calendar with large squares for appointments also serves as a diary. Should anyone be so bold as to question the hours and days that you've been involved, produce the calendar.
Observations
It's helpful to date and enter your observations of—and reactions to—certain situations. Don't be afraid to express your feelings but try to avoid criticising others. Here are some ideas for the "Observations" section of the file:
Jan.1 Today, Mum called to tell me her best friend died. Not a good way to begin the year. I expect Mum to be upset.
Feb.3 Dad and I shopped for Mum's birthday. He talked about her failing health and he worries about how he'll be able to cope.
Mar. 1 I phoned my sister to give her an up-date. She wishes she lived closer and could help us out.
April 10 Brother (who lives out of town) called Dad, then called me to say how well Dad sounds. I wish he could see Dad on a regular basis as I do.
May 8 Bad day. Mother and I had a blow-up. I regret losing my temper with her. I'm tired. Note to me: avoid introducing the topic of in-laws.
Don't write it down if you don't want anyone else to read it.
Communications
Miscellaneous
Blank lined paper
Post-it notes
Other
This might be a good place to file something that simply must wait. In these two sections, the handle-it-once or silly questions and polite phone calls rule may not always apply.
Isn't it helpful to have a place to put stuff? It sure beats having things pile up on the hall table or the kitchen counter. At the least you'll be able to say, "It's in here somewhere and probably in Misc. or Other."