Steps to Success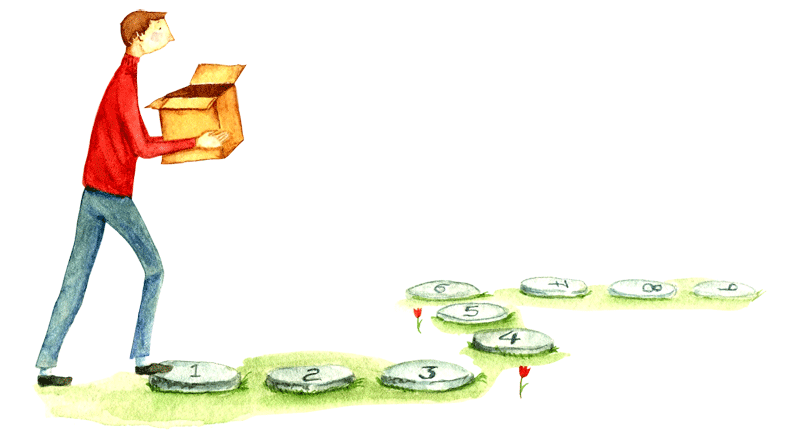 One of the secrets of life is to make stepping-stones out of stumbling blocks.
-Jack Penn
Neatnik or Collector?
Your Aging Loved One will be one of two general types of people. He may be a clean freak. All will be tickety-boo. Papers will be filed in an orderly fashion. Clothes and food cupboards will have been purged routinely. A place for everything and everything in its place.
No? Not him? He will be a collector of nuts and bolts, used tires, too many towels, too many dusty books, enough underwear to stock a shop, napkins from every restaurant, dozens of candles in case of a power outage, antique birthday cards ... it's endless. Our collections tell a lot about our passions and fears.
Dad almost certainly will need help clearing out his home. In many cities and towns, there are people who do this either on a paid or a volunteer basis. Call a moving company and ask them to refer you to someone. Movers charge by the hour and prices can vary, so do some research.
The Dreaded Downsizing
Downsizing is inevitable.
Practise until phrases such as these roll off your tongue:
Will you need this in your new home?
Someone will be doing the yard work for you.
Does this jacket still fit you since you've lost a little weight?
Is there room for this in your new bedroom?
A lifetime of collecting treasures, memorabilia, memories. Mum must say goodbye to many possessions to which she is emotionally tied. A tablecloth, the family piano, a favorite wooden spoon, a stool that Great-Grandad made when he was in school .... Sentimental? Without a doubt. Necessary in a new home? Providing there's room, absolutely! How hard must it be to toss everything in a bin and move on?
By all means, keep many sentimental items. They make a house a home.
A Plan
Assuming you are the one, by choice or default, to be the helper, you need a plan. A home crammed full of furniture and possessions didn't become that way overnight. Don't expect to accomplish the task in one day.
Set aside at least two weeks and more if you have the luxury of time. You see, Auntie will need to fondle and possibly tell a story about nearly every tea towel. Grandad will want to tell you about every fish he caught on each rod and reel.
It's time-consuming. It's emotional. Expect some teary moments. It can be exasperating. Two hours a day is about all anyone (you or Auntie or Grandad) can spend on this chore. You will both run out of steam. Every item requires a decision and those decisions can be exhausting.
Before you charge in with your discreet stash of garbage bags and cardboard boxes, have a good chat (or more) with Auntie. Reinforce the need to part with many items. Remind her of the difference in size between a big home and a one-bedroom suite. The whole houseful of things cannot move.
Ask her to consider giving items to family members and dear friends. "Sandy might like to have this from you and your home. Shall we ask her?" Then, speak to Sandy. Insist. "Please just accept it graciously, phone or write a special thank you note, then do what you wish with it." little white lies may come in handy. Accomplishing the goal of releasing these possessions will require a little creativity on your part at times. It isn't wrong.
Remember ... someone sent out a signal or call for help.
Prepare your Aging Loved One for the days when you will be there to assist with the dispersal of household items. "I can be here this Wednesday and Thursday from 10:00 until noon. Let's see how much we can accomplish and take it from there."
Phone on Tuesday reminding Mum that you'll be there tomorrow. You're keeping your word and reassuring her that you care.
When you arrive, don't put up with any dilly-dallying or excuses to postpone the inevitable. "I'm here to help. This is a working morning for us." Pour two glasses of water and get to it.
Steps to Success
Generally, go from rooms that are used less frequently to rooms that are lived in on a daily basis.
Tactic: This order of procedure might work for you. Vary to suit the circumstances.
Garage/carport/attic
Spare bedroom(s)
Linen closet
Dining room/china cabinet
Bedroom clothes' closet(s)
Living room
Kitchen
Den
Bathroom
Garage, Carport, Attic
It's quite easy to dispose of old garden tools when they won't be needed in a new home. "Dad, someone else will cut the lawn and trim the hedge and sweep the sidewalks. Let's ask [son, nephew, newly married grandson, friendly neighbour] if he could use them."
Useful outdoor maintenance equipment will be welcomed by family or friends. Possibly some of the items have re-sale value. Consider on-line sites. Save for a charity bazaar, donate to a charity, find someone who will come and pick it up ... do what it takes.
Spare Bedroom(s)
Move along to spare bedroom(s), which often are used for storage of hobby items, photo albums, rarely worn clothes ... it's amazing how we can fill an empty space. Some oldsters haven't weeded out unnecessary papers in years.
With regards to those old papers, who wants to sort them? Is there anything valuable? Might there be? Old photos tucked into old greeting cards? They may be precious to someone. Save that chore for another day.
Linen Closet
A care facility usually provides a list of necessary items. The list may specify "two sets of towels, two sets of bed sheets and pillowcases," etc. When possible, take the newest towels and sheets. "Let's make your new home look as nice as we can. You don't need to scrimp with ratty towels." It's a new start.
On the other hand, if dementia is an issue, the more familiar the better. You will be the judge.
Family members may appreciate a special tablecloth or similar item. These things make nice gifts. "We could give this to Sarah for her birthday next month."
Dining Room, China Cabinet
At one time, this room may have been the setting for happy family dinners, parties, and festive occasions. Out came the tablecloth, good china, the silverware, glasses, platters.
Now, perhaps sadly, those days are memories.
There are those of us who are sentimentally attached to teacups. Or figurines. Or matchbooks. Or LP records. Or sheet music. Many a woman can remember who gave her that lacy table cloth as a wedding gift. As she sits in her chair, she has "June roses to remember in December." Let her hold on to as many of those roses as possible, even if it means cramming her new home with dust collectors. Some one will do the dusting. Whatever you do in your best efforts to eliminate clutter, be mindful of the generation, of the life experiences, the values. "One man's junk is another's treasure."
For Mum, especially, the treasures contained in her china cabinet may have immense sentimental value and this may lead to what we can call possession obsession. Some may have belonged to her mother. Some may have been in the family for a long time. Many will have been wedding gifts. Some may be worth a substantial amount of money. Others may be trinkets loaded with sentiment.
It's a fact of Mum's life that she will no longer entertain the crowds of friends and family. The torch will pass to the next generation and Mum can be a guest, enjoying someone else's hospitality. What to do with the treasures?
Excruciating emotional pain may accompany the discarding of these things unless you muster all of your strength, compassion, and creativity.
Could it be that Mum has already decided which grandchild should receive what? Begin with these. Are there bequests in the Will? Clear them out first. Is there a story attached to a little vase? Write it down. Pack, using plenty of newspaper and sturdy boxes. Label the outside. The goods needn't be distributed immediately, but you know what's what and for whom. Big, big step. Take them with you when you leave for the day.
Next, sort out the things that Mum believes have the highest monetary value. "I don't want to send this to charity. I know it's worth a lot of money. Young people today don't appreciate the value of these plates." The truth is that the re-sale value of English bone china isn't what she thinks it is. Tea cups that were $80 each in 1940 fetch $5 today, on a good day, in a good market area. The pendulum may swing back one day and you may wish to hold on for that reason.
A smooth way to deal with these items is to ask a professional in to evaluate them. Mum may be stunned to hear, over and over, "I'm very sorry to have to tell you this, but there isn't much of a market for lead crystal today." You've accomplished two goodies here:
You didn't have to say it.
You didn't have to say it.
Get it? You've laid the responsibility on someone else's head. Mum will be unhappy, but a different voice saying the words may have more of an impact.
Don't spend all day on this job. Two hours at a time. It can be heart-wrenching for both of you and you can always re-visit the job; meanwhile, Mum may have mulled over the whole affair and may come up with some solutions of her own. Call in an elderly relative or friend. These old dears talk to each other. They can share how they dealt with the situation.
Furniture? Are you family or friend? Family? Either you, your siblings, or younger family members should include the dispersal of Mum's belongings in a family meeting, unless Mum has definite ideas. Does she want Joe to have the dining table and chairs? Perfect. One less decision for you. Tell Joe that they're his. He can keep them or offer them to whomever he wishes.
Are you a wonderful friend answering the call for help? Contact the family members, ask them for their input and wash your hands of the responsibility. No family? More decisions for you.
Bedroom
Work on the clothes closet. Have Gran sit comfortably in a chair. You'll hold up clothes and she'll make the decisions. Generally, we keep our most used clothes within easy reach. Head first for the back of the closet. (Easy now ... things might be dusty in there.) Determine if Gran has changed size. Do these things still fit? "When did you last wear this? Will you wear a long muu-muu again? You had fun on that trip, didn't you?" Make two piles on the bed. One pile is "keepers" and the other is "We'll find a new home for it." She may ask, "Would you like to wear that, dear?" Your answer: "I'd love to! I'll take it home and try it on." Don't bat an eye. You'll never wear it, but Gran thinks you may and she will be happier making the next decision. You're rolling with the moment. You're eliminating some baggage. You are accomplishing the goal.
Half an hour on clothes and Gran begins to fade, saying "Oh, I don't know. I don't know." She's sad. Move on. Switch to shoes. "No, Gran. No more spiky high heels. They're unsuitable for someone with [fill in the blank - arthritis, dizzy spells, new hip, etc.]" Keep the sturdy, sensible shoes and one or two dressy pairs. You can return to them later. Work on purses. One for summer, one for winter perhaps? One or two extras just because? In many seniors' facilities, the residents tend to wear something nicer than housework or gardening clothes. Concentrate on keeping only those clothes that are easy on and off for a person with sore, arthritic fingers. They'll likely be the ones front and centre of the closet.
Move on to drawers as you finish the closet. Be prepared for countless surprises there.
Don't panic if some garments aren't spotless. You can see to the cleaning another day. Focus on your job of making a manageable move into a smaller space and your limited time to do so.
Don't be afraid to make careful executive decisions and sneak a few gems into the garbage bag when you are confident that they are truly garbage. Broken shoes? Cracked belts? The thickness of the dust is your clue. Remember to be cautiously confident. As sure as the sun rises in the East, Dad will ask about the tired old slippers you hastily turfed. The goodies close at hand are usually the ones that have personal value.
When you have a "find a new home" pile on the bed, cheerfully say, "I'll take these few things out to my car and be right with you. We're making great progress. I'll find good homes for the things that you won't wear." Clear the bed of the cast-offs before you leave. Out of sight; out of mind. Do the job in small bites.
At the end of your session, don't leave a collection of "maybes" in a corner. Get the decision and act on it.
Don't count your success for the day by the size of the pile. Small steps, but completed steps, and a fresh start tomorrow. You'll both feel better for it.
Be respectful of the choices. You hate seeing Dad in that threadbare old robe when there's a lovely new one hanging in there. Think beyond it. He likes the old one. It's comforting at a time when he thinks his world is spinning out of control. Send the new robe to his new home and you just might find him wearing it when he sees the other gents looking spiffed up. Focus, focus. What are we trying to do right now? We're downsizing. We are not discarding a life well lived.
Respect.
Living Room
Apart from a favourite chair if this room is well used, you may find that there are some valuable pieces of furniture, lamps, paintings, and so on. Again, call in a professional to appraise them. Include as much as possible or desirable in the move to the new home.
Kitchen
A woman's kitchen, if she's been a traditional homemaker baking and cooking for her family, may be her private domain. In there, she has the wooden spoon that she used each year to stir the Christmas cakes, or the crock she used for pickles each autumn, or the pitcher that was always filled with lemonade for the kids. Do you think she'll give up these things easily? Quickly adjust your Compassionate Hat. She may be incapable of making pickles ever again, but don't tear the crock away from her just yet. Pack a box of kitchen favourites. "You never know when you might like to bake some brownies." You know that she won't bake brownies. Avoid popping all the bubbles at once.
You'll find antique Jell-O, soggy crackers, rock-hard brown sugar, containers of elderly flour ... flex your throwing-out muscles. Buy new if it keeps the peace. There's a very good chance that the lower cupboards haven't seen daylight for a long time. The same goes for the very top cupboards. You may find evidence of a mouse's adventures. Toss, toss, toss. Do it quickly and quietly. Get the bags and boxes out of the house, pronto.
Den/Family Room
Proceed with caution. Here's the room that may be the most comfy and most cluttered.
Favourite chair, family pictures on the wall, TV, radio, house plants, magnifying lens, knitting basket, good reading lamp ... all things that make for comfort and security. This is the room where you will find most of the current favourites. Again, the items most often used are close at hand.
Bathroom
The bathroom is straightforward. Out of date medication? Out it goes. Take the bag of old pills to the pharmacy where they will be disposed properly. Vintage potions and similar mysteries—gone! Get rid of rusty nail clippers and scissors. Soak the gucky combs in ammonia. Keep the current favourite shampoo, soap, and personal care products. Make a note of them if you wish, so that you can restock them as the need arises. Set aside two facecloths and tw towels.
Homework for the Evening
You'll soon learn when it's time to stop the day's work. Gran will be tired. She may become short of breath. She may become a little short-tempered with you. "I told you, I don't want that to go to anyone. I need it."
Be kind. Say, "I'm ready to stop. Are you? You've made many decisions today. We'll both feel better tomorrow after a good night's sleep."
Make a little pile of papers, or take out a little desk drawer, or fill a little box with kitchen cutlery. The key is "little."
Put the items on the kitchen table, then gently say, "After you've had a rest, your homework must be to go through this collection and discard half or more."
This accomplishes at least 3 things:
There's breathing space for a little nap.
Mum can do the chore on her own, in peace and quiet. She's not accustomed to so much chatter.
She feels she's doing her part. She has some control.
As you cheerfully leave, say, "I'll be back tomorrow. See you then."
Try to deliver your carload of discarded items to a charity drop-off location on your way home. Your sense of accomplishment will give you a boost.
Garage Sale
Some people want to have a garage sale in order to unload unwanted household items. The prospect of earning a few dollars may be the only way to achieve the goal. You remember what it is, right? It's to downsize and make a smooth transition to a new home.
When you consider holding a garage sale, bear in mind:
Your Aging Loved One will not be able to organized a garage sale alone.
Old clothes don't sell well.
Books don't sell well.
Small appliances don't sell well.
Televisions don't sell period.
Bottom line: You will have to organized the sale and you will earn pitifully little for the time it will take.
Suggestion: Call a reputable auctioneer who will be interested in fine wood furniture and antiques. He may take kitchen pots and bowls, too, but it may be quicker and easier for you to donate boxes full of such items to a local charity. Ask for help. Ask someone to come and collect the boxes you've filled.
Another suggestion: Put a notice on the bulletin board in Mum's apartment. It could read, "Kay is moving soon. Please come on Thursday afternoon. You may have a use for some of her household items."
Photos and a Word About Them
A Birth Certificate shows that we were born.
A Death Certificate shows that we died.
Pictures show that we lived!
They're precious; if not to you, then to someone else. They are part of a family's history.
They may be stuffed in envelopes or they may be lovingly arranged in albums. It doesn't matter.
Don't discard any of them. Find a way of keeping them. Get an under-the-bed storage box or a desk or anything.
It's insignificant that Uncle hasn't looked at them since they were taken. Don't throw them out. After the move, when all the dust has settled and you visit, you can always go through a few, asking questions. Make little notes on the backs of them. You may wish to sort through some, giving duplicates to family members.
Reminder: Do Not Discard Photos!!!