Bequests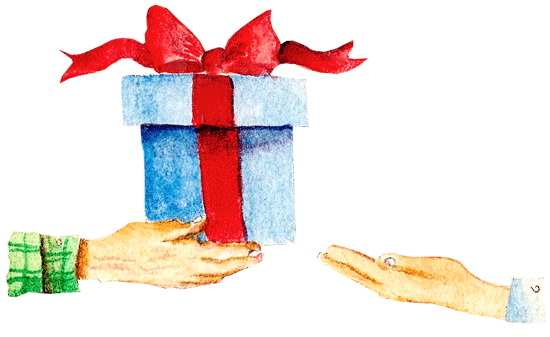 "Do your giving while you're living ... then you'll be knowing where it's going."
Your Aging Loved One may decide against giving gifts in person. He may have good valid reasons for this.
Respect.
He may wish to write on paper his wishes for certain possessions to go to certain people after his death. The paper could look something like the page below.
January 1, 2000
After my death, I wish the following people to receive the following items:
Mary T. Doh - my stamp collection, my coin collection, my jewelry
Sam L. Doh - my fishing equipment
Ray Doh - the picture of his Grandad in his uniform taken during WWII
(and so on)
Signed today, January 1, 2000
William (Bill) Doh
1234 Old Smith Road
Tranquillo Bay
Make a copy of the paper for the legal section of The File and put the original in the secure place you've chosen for the Will, etc.
Mr. Doh's Executor is responsible for the gift-giving.
Grandma's Special Gifts
Chat about disposing of some valuables. Does a granddaughter have an up-coming birthday? A pretty teacup might make a special gift. Granny could include a note: "This belonged to your great-grandmother Smith who was born in 1880 in Tromp-on-the-Hill, England."
One thoughtful lady celebrated her 80th birthday with a family gathering. Before the family dinner, at each of her grandchildren's places at the table she put a wrapped gift, a piece of china, a locket, a special book, a bit of pretty linen ... wonderful gifts made more meaningful because Grandma had given them in person.
Lucky, lucky grandkids!