Neighbourhood Party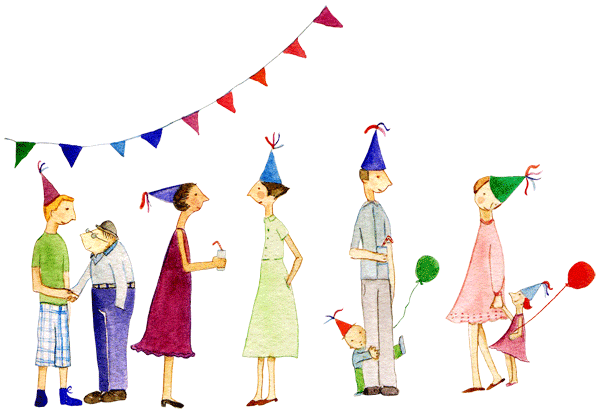 Have there been changes on the street? New neighbours over the last few years? Do many of the owners work all day, preventing them from getting to know each other? Are strangers existing side by side?
Tactic: A Neighbourhood Party
You can work a major miracle by hosting an informal neighbourhood party. Phone or talk to the neighbours you know, asking names of other neighbours.
You might like to print out invitations and deliver them in person or put them in mail boxes.
Copy the one below if you wish, changing and adding where necessary.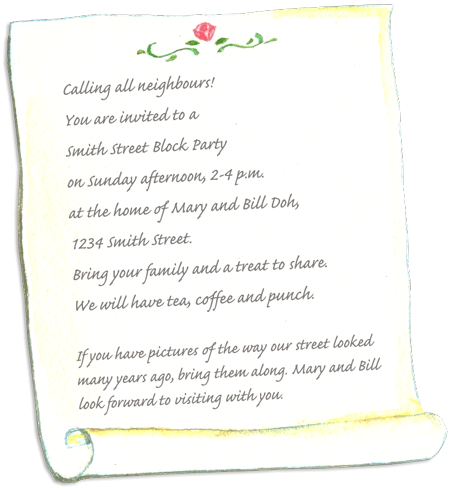 Perhaps the home of Jack and Jill isn't suitable. Could you convince another neighbour to host the party with your help?
Many apartment buildings or condo complexes have a meeting room that would work.
Keep things simple. Use pretty napkins instead of plates. Don't worry if there aren't enough chairs for everyone. Allow the neighbours to mingle and chat. Ask young children to help pass the goodies that arrive. Exchange names, street numbers and phone numbers, and the option for email addresses.
Enlarge Your Support Network
Don't expect every neighbour to attend, but you can be certain that those who do will have a happy afternoon.
More importantly, neighbours will begin to wave to each other, to say hello as they walk past each other, and best of all
THEY WILL FEEL SAFER KNOWING THEIR NEIGHBOURS!
These new friends will be more likely to drop in on Jack and Jill from time to time. You will have enlarged your network.