Power of Attorney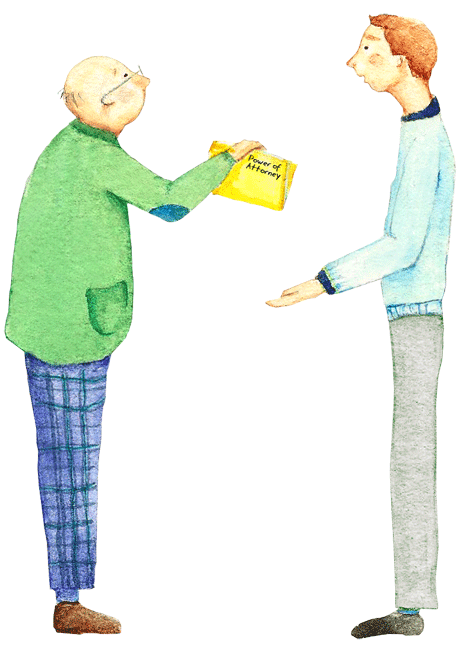 First Things First
In most cases, the lawyer will want to deal with power of attorney first.
From the Canadian Bar Association:
"A power of attorney is a document that allows you to give another person, called the attorney, the authority to act for you in financial and legal matters. The power can be as specific or as general as you wish. But unless you use an enduring power of attorney, it will automatically end if you become mentally incompetent. A representation agreement, on the other hand, can cover personal care and health care decisions, as well as certain financial and legal decisions, if you're unable to make them on your own."
This comes into effect upon signing the document. The purpose of the power of attorney is to allow someone to handle affairs should your Aging Loved One become incapable, mentally or physically.
It's usual and helpful for practical reasons to appoint someone who resides in the same city, but this is not necessary. The lawyer may suggest that your Aging Loved One appoint an alternate power of attorney, a substitute, in case the first person appointed is unable or unwilling to act.
Granting Power of Attorney ... Serious Business.
Your Aging Loved One must consider carefully the person to whom he wishes to appoint as his power of attorney and ask his permission. It may be, but not necessarily, the same as his executor and his health representative.
Your Aging Loved One must completely trust the honesty and integrity of this person.
Is there no family member or friend whom your Aging Loved One can or wants to appoint? He may appoint a respected professional such as his lawyer, accountant, or trust company.
A power of attorney is not a license to spend someone else's money at will. Legally, the person appointed must act honestly and in good faith. He must keep records and produce them upon request.
Types of Powers of Attorney
Power of attorney can be given for certain and specific tasks; for example, cashing Old Age Pension cheques only.
A general power of attorney can give wide powers to deal with all of your Aging Loved One's assets.
An enduring power of attorney gives permission to make financial and legal decisions if your Aging Loved One becomes mentally incompetent, due to age, accident, or illness.
The safest way to decide which option is most suitable is to
ASK A LAWYER.
Responsibilities of the Power of Attorney
For anyone who been appointed Power of Attorney, the job does not end upon signing the document. It has begun.
Assume it is you. You must make yourself known to the various institutions with which your Aging Loved One has dealings; for example, banks, insurance companies, investment manager, pharmacy, etc.
It will save time to write a letter and make 10 or more copies and sign them. The letter below is a guide. Vary it according to your needs.
[Today's date]
To Whom It May Concern,
Re. Your client:
Mrs. Mimi T. Doh, Bars' Rest Retirement Village, Tranquillo Bay, Prov/State, Country, phone 123-456-7890
I have been appointed power of attorney for your client,
Mrs. Mimi T. Doh, born June 30, 1930.
Mrs. Doh's Attorney is Mr. L.L. Bach, of Bach and Bach, Tranquillo Bay.
[Your signature]
[print your name] Mr. T. Blow, 1234 Old Wood Road, Tranquillo Bay, phone 123 098 7654
Keep a copy of the letter and the contacts in the legal section of The File. When you change your address or phone number, inform the contacts.
Note: Power of attorney gives you the power to make decisions for a living person. It is effective only during life. No one can represent a deceased person. No one can make legal or financial decisions for someone who is not alive.
Power of attorney dies when the represented person dies. There are other circumstances when power of attorney ends. Don't pretend to be the legal expert. Ask a lawyer.