First Appointment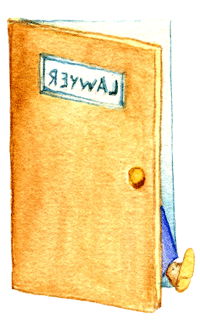 Preparation
Once your Aging Loved One has chosen a lawyer, one with whom she is comfortable, you and she can assist the lawyer (and perhaps cut down the expense) by being fully prepared for the first visit.
Guess what? You've done the hardest part.
You have completed, to the best of your ability, the legal section of the Important Information Checklist.
Take The File with you. You have virtually everything the lawyer needs in order to assist in preparing or updating a meaningful Will and any other significant documents.
Note: you may not be able to complete certain sections of the checklist until after your appointment. That's fine. Do it as soon as possible. The lawyer will understand.
Here's as close to a promise as we can make:
You will knock the socks off that lawyer by having the information at your fingertips!
Put it on the Table
A lawyer can be of greatest assistance to your Aging Loved One when he has all of the details regarding family and finances. Don't hold back information. Answer all his questions. He has his reasons. He needs to know the family dynamics. Encourage Gran to talk freely about family. Lay it all out in the open. It's significant and confidential.
He may ask you to leave the room while he speaks to Gran. He needs to determine that she is of sound mind and acting on her own. It's his job. Let him do it.
Don't be shy
Perhaps you are entering new territory with these legal appointments.
He may use words or terms you don't understand.
It is Legalese, Legal-Speak, and a dash of Gobbledy-gook.
Speak up. Ask for explanations. Don't be muddled or bamboozled.
No one should sign any document which he or she does not understand.