Family Doctor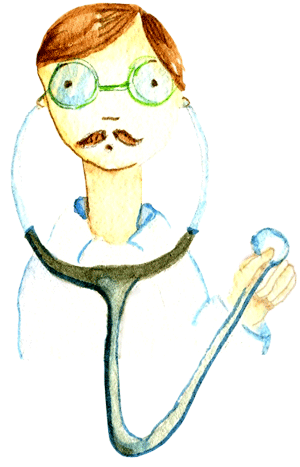 Someone's Slipping
Do you suspect that an Aging Loved One is "slipping" or has had a crisis? You must begin a dialogue with his/her family doctor (General Practitioner—GP.) Make an appointment to discuss your concerns. Tell the office receptionist that you need to talk about Mum's condition. Take time before the appointment to make a list, in point form, to give to the doctor.
Show him you Care
Let the GP know that you care. Let him know that you are managing an increasing load of your Aging Loved One's affairs.
You might include some of the following observations as they apply:
He really shouldn't be driving. His reaction time is noticeably slow.
I learned that he hasn't been paying his hydro bill.
He looks unclean. He was always so fussy about his appearance.
He calls us at any time of the day or night.
His apartment neighbours complain about his loud TV.
Don't pester the doctor. Don't rattle on. Be specific and brief and let him/her ask the questions. Make an appointment for Dad's visit.
Prepare for an Appointment
Prepare Dad gently and honestly.
Say, "I know that this may upset you, but I've been so worried about you lately that I spoke with your doctor about my concerns. He wants to see you on Tuesday afternoon at 2:30." Ask Dad, "Would you like me to go with you?"
You have The File with you, right?
Dad may decline your offer. Make a follow-up appointment for yourself to review the GP's findings. He has the right to give out information only if he knows that you have power of attorney or are the health representative.
You may have formed a special relationship with him and he may bypass this law in the interest of his patient's well-being.
The family doctor is the one who can refer his patient to a specialist.
Keep it Official
DO NOT phone asking to speak to the doctor unless you have the doctor's approval.
Make it official and you will receive official, professional treatment.
A Giggle for you, Tongue Firmly in Cheek
Nowadays there's little meaning
For a person to be gleaning
When a man attaches "doctor" to his name.
He may be a chiropractor
Or a painless tooth extractor
He's entitled to the title just the same.
Or perhaps he is a preacher
Or a lecturer or teacher,
Or an expert who cures chickens of the pip;
He may keep a home for rummies,
Or massage fat people's tummies,
Or specialize in ailments of the hip.
Everybody is a "doctor,"
From the backwoods herb concocter
To the man who takes bunions from your toes;
From the frowning dietician
To the snappy electrician
Who shocks you loose from all the body's woes.
So there's very little meaning
For a sufferer to be gleaning
When a man attaches "doctor" to his name.
He may pound you, he may starve you,
He may cut your hair or carve you,
You have got to call him doctor all the same!