Occupational Therapist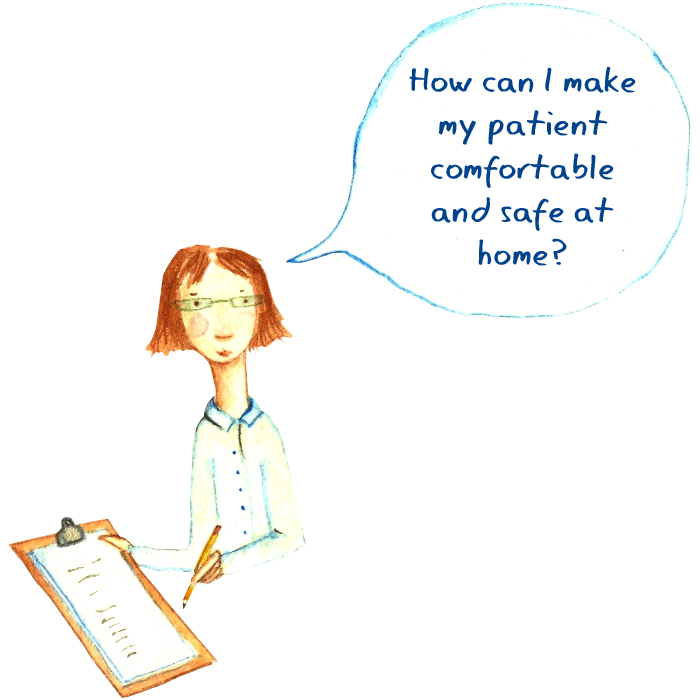 Help with Daily Life
"Young at heart; slightly older in other places."
Are you dealing with someone recuperating from a surgery or other serious condition, perhaps? Before discharge from the hospital, some equipment must be in place for Grandad's safety in his home.
Are you ready? It's an assessment by the occupational therapist, the OT. She may examine Grandad's home with her eyes peeled for safety issues. Her job is to help Grandad in all aspects of his daily life.
Occupational therapists work in hospital and various community settings. They work with people of all ages to help them overcome the effects of disability caused by physical or psychological illness, aging, or accident.
The three rooms in the home that pose most dangers to your Aging Loved One are, in order:
the bathroom
the kitchen
the bedroom
The OT will have many suggestions for improving safety. Grandad's limited ability to walk, perhaps some dizzy spells, and his medications are important. She will have reviewed her patient's chart and will have received direction from the key players.
Is The File close at hand?
Accommodate the Changes
It's common for the OT to order a walker, a raised toilet seat, hand rails in the bathroom, a bath chair or bench, a rail for the bed and several other "mobility aids." These aids are all meant to make life easier for your Aging Loved One. Clutter? Yes. Safety? Yes and yes.
The OT takes into consideration your Aging Loved One's height and weight when choosing the correct equipment. Don't try to do it yourself.
In some cases it may be necessary to make some drastic changes to his home if Gramps forgets to turn off the stove element or if he might mistake shampoo for a drink of milk.
People do not do these things on purpose. They are confused. For some, a mirror is a dreadful upset. "Who is that guy? That's not me. I have lots of dark hair." Gramps is remembering how he looked a few years ago. Replace the mirror with a picture.
The OT will give you information and hints on how to de-confuse the home. She will be in touch with The Worker to give her an up-date. They work together.
Ask for her business card. File it in the medical section of The File. Call her as new issues arise.