Eyes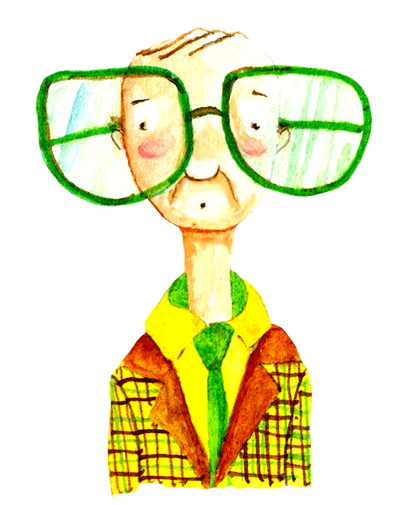 Diminished Eyesight
Many Aging Loved Ones wander around in a fog simply because they haven't seen an ophthalmologist or optometrist in w-a-a-y too many years.
In the case of certain chronic diseases such as diabetes, regular appointments with an eye physician are vital.
Yes, it's another assessment, but think of the alternative.
New frames are hideously expensive and not always necessary, but new lenses might make a world of difference. Reading and TV watching will be more enjoyable.
Another scenario? The frames have been broken for months, have a band-aid holding them together and it is causing a blister.
The Ophthalmologist, Optometrist, and Optician
There are three types of eye care professionals and it is important to know the differences.
An ophthalmologist (off-thal-mol'-oh-jist) is a medical doctor with advanced special training in the health of our eyes. Only he can perform eye surgery.
An optometrist usually has a Doctor of Optometry degree. He can conduct annual examinations to treat any vision problems and detect signs of disease and abnormal conditions. Examinations may also include testing for glaucoma, color perception, depth, and the ability to focus and coordinate the eyes. He can prescribe corrective lenses. Optometrists must be licensed.
An optician is trained to design, fit, and sell lenses for the correction of a person's vision.
Special health needs may warrant a visit to an ophthalmologist.
The family doctor may become involved if a referral is necessary.
Protect Those Lenses
Ask the optician to make two copies of the lens prescription. Give one to Dad for his wallet. Keep the other in the medical section of The File.
General safety is an issue. When you visit, offer to clean those lenses. Liquid detergent and a tea towel will do the trick.
Tactic: "My glasses are terribly dirty. I need to clean them. May I do yours at the same time?"
Large-print Books
The local library will have a selection of large print books and some talking books. Speak to a librarian about inter-library loans. He or she can borrow requested items from other library branches. Some centers have volunteers who deliver books to the housebound.
Old glasses and frames
Many optometrists and pharmacies have a collection box. Service organizations such as the Lions' Club also participate. Take any unused frames, with our without lenses, to the one nearest you.
Go to: Charity Guide to see what a huge difference you can make in someone's life with this simple gift.
A giggle for you
A sign on the optometrist's window: If you don't see what you're looking for, you've come to the right place."