Handicapped Parking Permit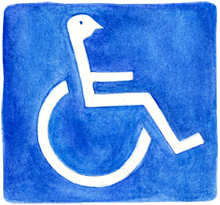 Save Some Steps
The scenario: You park close to the office building door, too often blocking traffic. You struggle to get out Mum's walker. You see her to the door. She waits while you run back to the car, park it, get a ticket from the meter, run back to the car, run back to Mum.
Now you navigate the elevator. You wait. You see the doctor. By this time, Mum's exhausted and the last thing you both need is for Mum to wait in the lobby while you, in crummy weather, have to reach your car, drive it to the lobby, care for Mum and the walker.
It's tiring thinking about it, isn't it? And you haven't even considered the important results of the appointment.
Would it be much easier if you could park closer to the entrance?
Parking spaces for handicapped people are scarce. The use of them must be carefully controlled.
Your Aging Loved One's doctor must complete a form, which he has in his office, for the disability permit and he may charge you for this service. He may order a temporary or permanent permit and you pay for it and to renew it. Will you will be the one to drive your Aging Loved One to all appointments? By all means request a long-term permit.
Will you share driving duties with others? If Mum keeps the permit in her purse, it will be available for everyone.
The doctor's office will direct you to the Permit office in your area.
Remember ... you're helping.